IQAA HAS BEEN ADMITTED TO THE EUROPEAN QUALITY ASSURANCE REGISTER FOR HIGHER EDUCATION - EQAR
In accordance with the decision of the Register Committee dated 20.06.2017, IQAA was admitted to the European Quality Assurance Register for Higher Education - EQAR.
EQAR is one of the well-recognized international organizations, which takes the leading role in the field of quality assurance throughout the European Higher Education Area (EHEA) and currently this Register includes 47 agencies from 24 countries.
EQAR activities are targeted on the provision of clear and reliable information about quality assurance agencies and building of the trust of students, HEIs, accreditation bodies, labor market and society as a whole to the quality of higher education in the European area.

EQAR was created by the E4 Group (European Association for Quality Assurance in Higher Education (ENQA), European Students' Union (ESU), European University Association (EUA) and European Association of Institutions in Higher Education (EURASHE)) in 2008 as a result of the Communique of Ministers in Bergen (2005) and in London (2007) with the goal to:

facilitate students' mobility on the basis of the trust building among higher education institutions;
elimination of "accreditation mills" (poor-quality accreditation) for providing trust;
distribution of information for governments and HEIs in their choice of reliable accreditation agencies;
improvement of activities by accreditation agencies and enhancement of the level of their mutual trust.

Inclusion of IQAA on ЕQAR along with the membership in ENQA certifies about a full compliance of the Agency activities with the Standards and Guidelines for Quality Assurance in the European Higher Education Area (ESG-2015) and its recognition as a reliable agency.

The international status awarded to IQAA in light of the inclusion on ЕQAR expands the boundaries of its activities and provides a new added impetus for the development of the independent accreditation – to implement accreditation procedures beyond the country, more specifically in partner countries of the Bologna process.

The Agency expresses its gratitude to all national and international experts, colleagues and partners for effective participation in quality assurance procedures on quality assurance, which contributed to the obtaining by IQAA of the high international status!

The Register of QA agencies included on EQAR
---

11. 07. 17
On 10 July 2017, representatives of IQAA took part in a Webinar organized by the CHEA International Quality Group (CIQG) on the topic "Quality Assurance and Combatting Academic Corruption: Focus on Plagiarism"
CIQG is hosting a Webinar Series on the role of quality assurance
---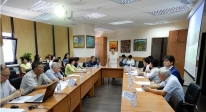 01. 07. 17
On 30 June 2017 the Independent Kazakh Agency for Quality Assurance in Education (IQAA) conducted the discussion of standards and criteria of institutional and specialized (programme) accreditation
The aim of the event – to discuss standards and criteria of accreditation, to create a platform for effective exchange of ideas and opinions on the
---