Useful information for prospective students
Dear prospective students and their parents,
Our agency is a nonprofit organization established to improve the quality of education and competitiveness of Kazakhstani educational institutions; to provide information to stakeholders in Kazakhstan and abroad regarding the excellence of particular educational organizations.
The IQAA is included in the National Register of the authorized body (Order №304 by the MES RK dated 27.06.12) and has a certificate №001, which is valid until 01.06.17.
In specific, accreditation is a process by which a governmental or non-governmental body evaluates the quality of an educational organization as a whole or of a specific study programme in order to formally recognize that it has met certain pre‐determined minimal criteria or standards. The result of this process is usually the awarding of a status (yes/no decision) of recognition, and sometimes of a license to operate within a time‐limited validity.
Thus, we officially recognize the quality of accredited by us educational institutions and study programmes, and we want you to be confident in the choice of your educational organization. To do this, on our official website you can find a Register of accredited by IQAA higher education institutions, TVET organizations, and study programmes. In addition, you can also analyze external review reports on specific educational organizations and study programmes, which are placed on our website in the section "External review reports". If you need some external review reports, which are not published on the website, you can send a request for a specific report and we will be happy to provide you this information if it is possible.
We also want to pay your attention to the fact that passing accreditation by educational organizations is not the final point in the process of quality assurance of this organization. After receiving the status on accreditation (accredited – 5 years, accredited with conditions – up to 3 years), IQAA conducts post-accreditation monitoring, in the course of which the agency controls the process of implementing the recommendations on improvement of the activities carried out by these educational organizations.
Our agency strives to hold an open and active dialogue with stakeholders, especially students and their parents. Therefore, we will be happy if you leave some comments about educational organizations accredited by IQAA, express your suggestions, and ask any relevant questions on our website in the section «Feedback».
Join our official pages on Facebook, Twitter, and YouTube and be aware of activities carried out by our agency and accredited by IQAA educational institutions and study programmes.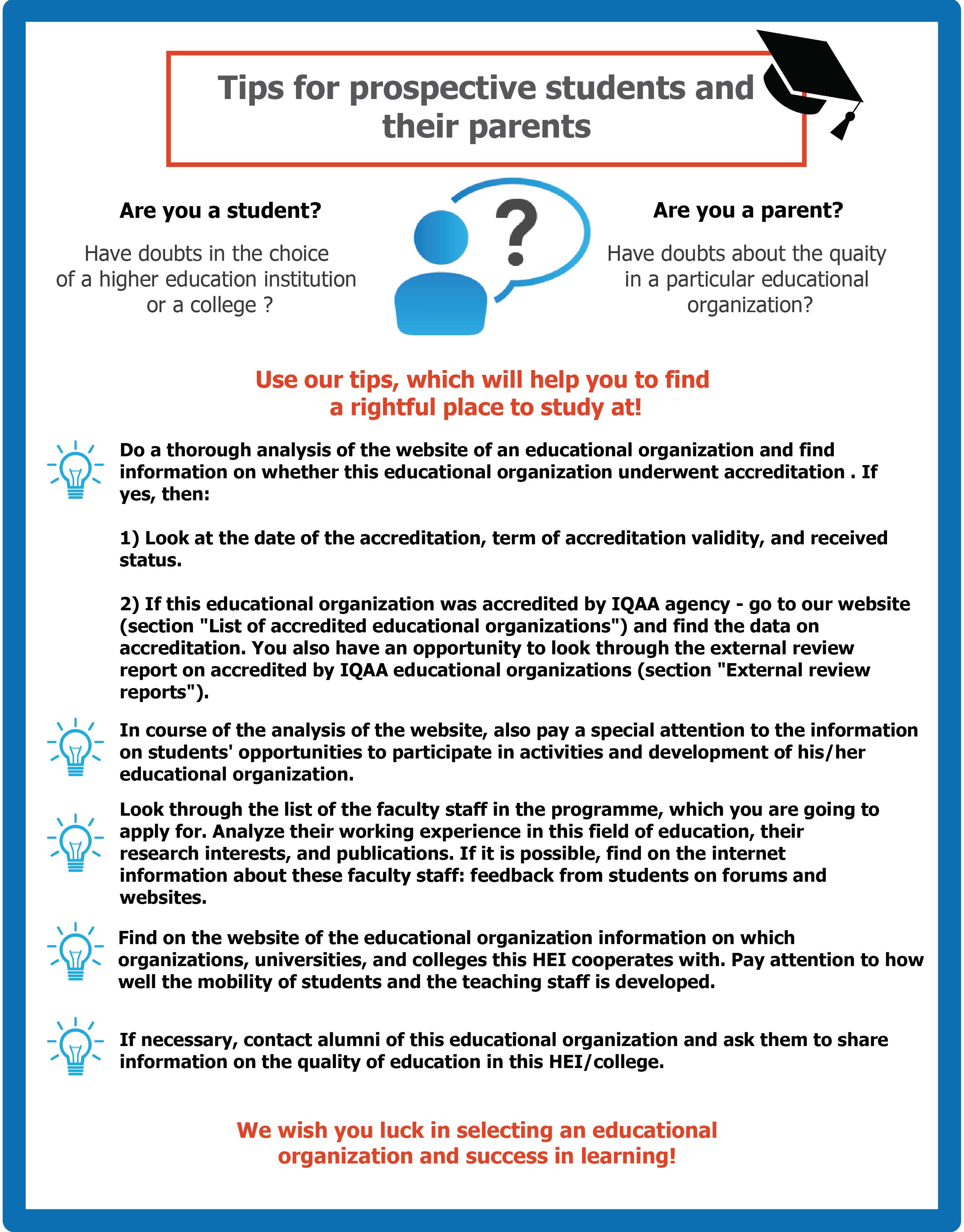 Your trust and cooperation are very important to us!